< Previous
|
Next >
Raffles
Wednesday, 25th August 2004 13:49
Raffles...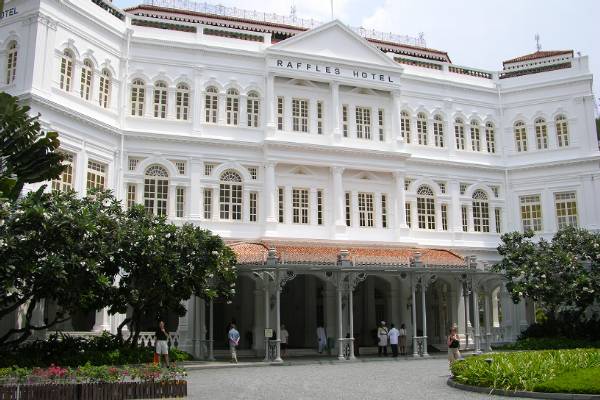 In the olden days (a long time before I was born), it was considered a rite of passage that any world travellers stay at Raffles. So who were we to mess with the traditions set out by olden days people? Ok, sometimes I might but this time there was no way we were going to pass up the opportunity for a little luxury.
Turning up at somewhere like Raffles in a beaten up taxi is a little unnerving, especially considering the contrast between Raffles and our hostel. Right away we were taken care of. All we had to carry into reception was ourselves. Following a brief check in, a nice man showed us to our rooms. Yes, I said rooms. We had four of them. Ok, two were bathrooms but it's a considerable increase on a lot of other hotels.
The weird thing about a place like Raffles is that everyone knows your name. They even knew that we were on our way round the world even though we had only mentioned it briefly in email correspondence. We were greeted at our suite and shown around it by May and Jasmin. They wanted to know if we wanted any drinks or had problems or questions about our suite. They showed us the service buzzer by the bed, anything we needed we just had to use the buzzer and they would be right along.
So, what do you do for 22 hours in the finest imaginable hotel? Well, aside from exploring a bit, you make full use of the facilities. Claire had a massage and I went for a swim in the pool. The view up by the pool is strange. I imagine that when it was built, Raffles was pretty much the tallest building around. Now, of course, it is dwarfed by several skyscrapers. I almost felt like I was swimming for the viewing pleasure of people in those towers. However, with that thought out of my mind, enjoying the pool was easy. The temperature was perfect for a lazy swim and I did just that. I also spent a while in the hot spa while I waited for Claire's massage to finish.
The other thing you tend to do while staying in such a nice hotel is take advantage of the clean bathroom facilties. That was the best shower I've had in weeks. Sorry, you probably didn't want to know about it. Our suite also had two televisions and a Bose wave radio. May told us we could borrow some CDs if we wanted but we found some Mozart on one of the television channels that seemd to fit in well with the surroundings.
We had opted for dinner in the Long Bar Steakhouse and it was yummy. I had King Prawn Rice Rolls and a rather tasty T-Bone steak. The chocolate cake for dessert beat me though, it was just too much.
While booking our stay, we had been given the option to choose our bed size and pillow type. This resulted in the most comfy sleep I've had since leaving England. It was over all too quickly though. A bit like our stay.
We got up in the morning to have a quick swim and then went down for breakfast in the Tiffin room. After that, I felt like I wouldn't need to eat for weeks.
All we really had time for after that was a wonder around again, taking photos. Then we had to check out. We will be back though.
< Previous
|
Next >